Wasn't entirely sure where this should go, but here seems as good a place as any.
A little while ago now I came across a post on another forum from a guy that made his own cards for a game and had found a site that made you a free template for boxes to store them in. I realised it would help me finally store all my PC cards in a much neater way than I had at the time, here's the link:
http://www.cpforbes.net/tuckbox/tuckbox.cgi
You just enter the dimensions you require and you get a .pdf template that you just cutout, fold and stick together. If you want you can add a title in the appropriate section on the form and you'll get a second page to the .pdf with a basic "cover" of sorts that you print on the reverse of the template.
I decided to be a bit more adventurous and imported my template into Gimp, flipped it and designed my own covers, check them out: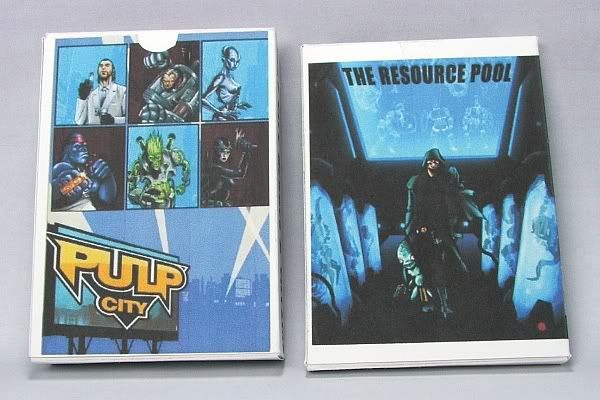 I made my Heroes/Villains box large enough that it takes the cards in their protective sleeves and the Resource Pool box large enough to take the laminated cards I've done for them.
I printed the boxes out on the thickest card I have, I think they turned out really well, what do you guys think?
J